Genre(s)
- Death Metal (Demo era), Black/Gothic Metal (early), Extreme Gothic Metal (recent)
Lyrical theme(s)
- Vampires, Dark Erotica, Legends, Literature, Tales
Origin
- United Kingdom(Ipswich, Suffolk)
Formed in
- 1991
Current label
- Roadrunner
Status
- Active
Current line-up
- Dani Filth (Daniel Lloyd Davey) - Vocals (1991- ) (PDA, Feast of Excrement,
The Lemon Grove Kids)
- Paul Allender - Guitar (1993-96, 2000- ) (
The Blood Divine
,
Primary Slave
)
- Dave Pybus - Bass (2002-05, 2005- ) (
Angtoria
,
Anathema (UK)
,
Dreambreed,
Darkened (UK)
)
- Martin "Marthus" Škaroupka - Drums (2006- ) (
Mantas (UK)
,
Entrails
(Cze)
,
Inner
F
ear (Cze)
, Galactic Industry,
Monastery (Cze)
)
Live / Session Performers:
-
Sarah Jezebel Deva aka Sarah Jane Ferridge - Female Vocals (1994-)
(
Angtoria
,
Covenant (Nor)
,
Mortiis
,
Therion (Swe)
,
Tulus
,
The Gathering
)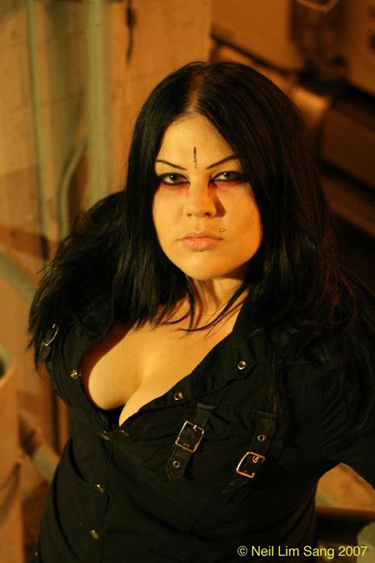 - Rosie Smith - Keyboards / Female Vocals (2005- ) (Rosa Damascena)
- Charles Hedger - Guitar (Live Bass in 2005) (2005- ) (
Imperial Vengeance
)
Former/past member(s)
Guitars:
- Paul Ryan (1991-94) (
The Blood Divine
)
- Gian "Pyres" Piras (1996-2002) (
Extreme Noise Terror
,
Solstice (UK)
,
Dragonlord
,
Screamin' Daemon
,
Gorerotted
/
The Rotted
,
Bal-Sagoth
, Christian Death)
- Stuart Anstis (1996-2000) (Bastardsun)
- James McIlroy (2004-05) (
Chaosanct
,
Ashmolean
,
Matron
)
Bass:
- Jon Kennedy (1991-92) (
Hecate Enthroned
,
Daemonum
)
- Robin "Graves" Eaglestone (1992-2002) (
Abgott
,
Criminal
,
December Moon
,
Grimfist
,
Belphegor (Aut)
)
Drums:
- Darren White (1991-92) (
Anathema (UK)
,
The Blood Divine
,
Dead Men
Dream
,
Serotonal
)
- Nicholas Howard Barker (
Atrocity (Ger)
,
Leaves' Eyes
,
Lock Up
,
Catalepsy (UK)
Monolith (UK)
,
Benediction
, Driven By Suffering,
Testament
,
Dimmu Borgir
,
Old Man's Child
,
Brujeria
,
Anaal
Nathrakh
,
Gorgoroth
,
Winter's Thrall
,
Nightrage
,
Noctis Imperium
(Session))
- William A. "Was" Sarginson (1999, Keyboards 1999-2000) (
Extreme
Noise Terror
,
December Moon
,
The Blood Divine
,
Deinonychus
,
Gorgoroth
)
- Dave Hirschheimer (1999) (
Obsidian (UK)
,
Infestation (UK)
,
Gorerotted
)
- Adrian Erlandsson (1999-2006) (
12 Ton Method
,
Tenet
,
Brujeria
,
At
The Gates,
Decameron (Swe)
,
The Haunted
,
Code
,
Terror (Swe)
,
H.E.A.L.
,
Needleye
,
Samsas
Traum
)
Keyboards:
- Benjamin Ryan (1991-94) (
The Blood Divine
)
- Damien Gregori (1994-97)
- Les "Lecter" Smith (1997-99) (
Anathema (UK)
)
- Martin ''Foul'' Powell (also Guitar, Violin) (2000-05) (
My Dying Bride
,
Anathema
(UK)
,
Cryptal Darkness
)
- Mark Newby-Robson (1999, 2006-2008)
Female vocals:
- Andrea Meyer (1994)
- Danielle Cneajna Cottington (1996)
Additional notes
:
Cradle of Filth originally played death metal in their demo era. Their sound has
since changed into a more extreme form of gothic metal, with hints of symphonic
black metal.Cradle of Filth's first album was actually suppose to be "Goetia", but it was never released due to funding problems and the eventual shutdown of the label. The original studio tapes have been erased. Other than this, not much is known about it.
Dani Filth appeared in the movie Cradle of Fear and has appeared on the
MTV show "Viva La Bam" and Cradle of Filth performed in the show.
Sarah Jezebel Deva appears on the Dead Can Dance tribute album
"The Lotus Eaters" covering the song.
Throughout the '90s, Cradle of Filth - led by vocalist, lyricist and crypt-crawling master of ceremonies Dani Filth - beavered tirelessly away, producing a series of peerless extreme metal classics that drew from an endless, dizzying array of inspirations and influences while always maintaining that instantly recognisable heart of filthy darkness. The brutal and brief Vempire mini-album and the lustrous, lascivious Dusk & Her Embrace (both 1996) began to reveal the band's great sonic range. Later taking into account the slithering concept piece Cruelty & The Beast (1998) and the Clive Barker-inspired Midian (2000) - not to mention their excursions into the visual realm of film and promo - the Cradle Of Filth sound showed itself to be a many-headed creature. It was one that took delight in confounding both the purists and the critics who continually assailed the band's motives and creativity even as their fan base expanded and their status soared. With a line-up that seemed to be constantly changing - thanks, perhaps, to the cobweb-encrusted revolving door that rumours suggest marked the entrance to the band's rehearsal space during this period - the music was never allowed to stagnate fresh blood and its revitalising effects remained a permanent weapon in the boys' macabre arsenal...
And so to 2007, where Cradle Of Filth find themselves in the enviable position of being in a league and class of their own. Having long since outstripped the achievements of their one-time contemporaries, the band is now firmly entrenched in a rich vein of form. The current line-up of Dani Filth, guitarists Paul Allender and Charles Hedger, bassist Dave Pybus, Rosie Smith ..boards, female vocals Sarah Jezebel Deva and drummer Martin Skaroupka is the most solid and powerful in the band's career and Thornography is the resounding, conclusive proof. With songs as brutish, bombastic and diverse as "Libertina Grimm," "Tonight In Flames," "Cemetery & Sundown," "I Am The Thorn," "The Byronic Man" (featuring HIM's Ville Valo on guest vocals) and a deranged cover of Heaven 17's '80s pop gem "Temptation," the world's biggest and best extreme metal band have never sounded so exhilarating, so vital, so venomous.
Louder, harder, faster, heavier, darker, catchier - the unstoppable force that is Cradle Of Filth slithers menacingly forward, crushing the opposition and striking warped, blackened glee into the hearts of misanthropes and malevolents the world over.....
Birth dates:
Daniel Lloyd Davey (25th July 1973, Hertford, England)
Paul Allender (17th November 1970, Colchester, England)
Sarah Jane Ferridge (25th February 1977, London, England)
Dave Pybus (4th June 1970, Heckmondwike, England)
Charles Hedger (18th September 1980, England)
Martin Škaroupka (20th January 1981, Czech Republic)
Rosie Smith (1983, London, England)
Gianpiero Piras (20th October 1973, London, England)
James Mcilroy (7th December 1977, King's Lynn, England)
Adrian Erlandsson (27th October 1970, Malm�, Sweden)
Robin Mark Eaglestone (1976, England)
Martin Powell (19th July 1973, Sheffield, England)

Discography
A Pungent and Sexual Miasma
Split, 1992


Orgiastic Pleasures Foul
Demo, 1992




The Black Goddess Rises
Demo, 1992




Invoking the Unclean
Demo, 1992




Total Fucking Darkness
Demo, 1993




The Principle of Evil Made Flesh
Full-length, 1994




Vempire or Dark Faerytales in Phallustein
EP, 1996




Dusk... and Her Embrace
Full-length, 1996




Cruelty and the Beast
Full-length, 1998




Twisted Nails of Faith
Single, 1998


PanDaemonAeon
DVD, 1999




From the Cradle to Enslave
EP, 1999




Midian
Full-length, 2000




No Time to Cry
Single, 2001


Bitter Suites to Succubi
Full-length, 2001




Heavy Left-Handed and Candid
DVD, 2001




Lovecraft & Witch Hearts
Best of/Compilation, 2002




Live Bait for the Dead
Live album, 2002




Babalon A.D.
Single, 2003




Damnation and a Day
Full-length, 2003




Mannequin
Single, 2003


3-song sampler
Single, 2004


Nymphetamine
Full-length, 2004




Devil Woman
Single, 2005




Peace Through Superior Firepower
DVD, 2005




Thornographic
EP, 2006


Thornography
Full-length, 2006




Limited Edition 4 CD Slipcase
Boxed set, 2006


Honey and Sulphur
Single, 2008


Godspeed on the Devil's Thunder
Full-length, 2008




Darkly, Darkly, Venus Aversa
Full-length, 2010




LINKS

Official
Official Homepage
Cradle of Filth @ MySpace
Official Forum
Official Message Board
Cradle of Filth @ YouTube
Paul Allender @ PRS Guitars
Official Fan Club
Cradle of Filth@Bebo
Labels
Cradle of Filth @ Roadrunner Records
Cradle of Filth @ Metal Blade Records
Cradle of Filth @ Music for Nations
Official merchandise
Cradle of Filth Merchandise
Official Cradle of Filth shop
Abyss Records
Cradle of Filth @ Star 500
Forensick Music
Cradle of Filth T-Shirts & Merchandise @ ROCKWORLDEAST
Fan site
Dutch website
Polish fan site
Polish website
Arsi's Cradle of Filth dungeon
Cradle of Filth @ Metal-Videos
Musicspace
Fans CZ
Extreme
Unofficial Polish website
Cruelty and the Beast
Cradle of Filth - Bootlegs
Turkish Fan Site
Russian's Fan Site
cradle of filth@vf
Cradle Of Filth Bootleg Exchange
LoveCraft and BlackHearts
Cradle of Filth @ Last.fm
German Community & Forum
Cradle of Filth @ MetalRockMuseum (ITA)
Tablatures
Doomish
MetalTabs
Ultimate Guitar
All Good Tabs
MySongBook
Bass Masta
TabIt
ZoneMetal
XGuitar
Cradle of Filth @ Mxtabs.net
Tablatures TK - GP4
Cradle of Filth @ Guitabs.net
911Tabs
Cradle of Filth @ Tabsmetal.org
Fretplay
SOURCE:metal-archives.com
cradle of filth my space